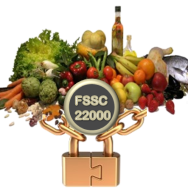 FSSC 22000 version 3 (released in April 2013) is intended for food safety certification of manufacturing processes of food ingredients and food products, uses the ISO 22000:2005, related ISO/TS 22002 and PAS (Publicly Available Specification) 223 standards as its core requirements.
The FSSC 22000 certification scheme is supported by the European Food and Drink Association (CIAA) and the American Groceries Manufacturing Association (GMA). It is also recognized by the Global Food Safety Initiative (GFSI) and Accreditation Bodies around the world.
It is developed for the certification of food safety systems of organizations in the entire food chain that is involved in processing or manufacturing perishable animal products, perishable vegetal products, products with a long shelf life, (other) food ingredients like additives, vitamins, bio-cultures among others.
The standard's food safety management system requirements consists of:
Clause 4: Food Safety Management System
Clause 5: Management Responsibility
Clause 6: Resource Management
Clause 7: Planning and realization of safe products
Clause 8: Validation, verification and improvement of food safety management system
Increase access to more markets worldwide
Ability to align with other ISO standards like ISO 9001
Demonstrate commitment to high levels of food safety
Increase cost savings through lower rejects and wastages
Improve operation efficiency through continual improvement process
How Can Nexus TAC Help?

Nexus TAC provides management system training and consultancy services. We offer specialized expertise and extensive practical experience to assist client in developing management systems from the initial concept to establishment and successful implementation of the management systems.
We use the following consultation approach to assist you in achieving certification:
Identify areas requiring improvement or development within your current Management System
Prepare a strategic action plan, in conjunction with your company personnel, to address those improvement areas and assist with the communication of these requirements to key personnel at all levels
Provide system-related trainings for your company personnel to create awareness and provide them with the necessary knowledge and skills in the implementation of systems
Provide assistance and advice on the development and implementation of systems, including preparation of documentation
Advise and assist, if required, with the preparation and submission of applications to your certification body
Assist with the development of internal auditing procedures and training

Conduct internal audit to ensure the effective implementation of the management system prior to final audit by your certification body
Conduct Management Review Meeting to review performance of management system and identify areas for improvement prior to final audit by your certification body
Our customised in-house training services include
ISO 22000 / FSSC 22000 Food Safety Management System Awareness
Understanding, Documenting and Implementing ISO 22000 / FSSC 22000
Internal Audit of ISO 22000 / FSSC 22000 Food Safety Management System
FSSC 22000 & ISO/TS 22002 Pre-requisite Programs on Food Safety for Food Manufacturing
FSSC 22000 & PAS 223 Pre-requisite Programs on Food Safety for Food Packaging
Click Here To Request For Quote