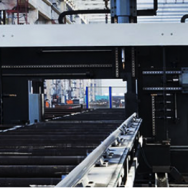 ISO/TS 16949, in conjunction with ISO 9001, defines the quality management system requirements for the design and development, production and, when relevant, installation and service of automotive-related products.
ISO/TS 16949 is applicable to sites of the organization where customer-specified parts, for production and/or service, are manufactured.
Supporting functions, whether on-site or remote (such as design centres, corporate headquarters and distribution centres), form part of the site audit as they support the site, but cannot obtain stand-alone certification to ISO/TS 16949.
ISO/TS 16949 can be applied throughout the automotive supply chain.
Requirements of ISO/TS 16949:
Scope
Normative Reference
Terms and Definitions
Quality Management System
Management Responsibility
Resource Management
Product realization
Measurement, analysis and improvement
Benefits of ISO/TS 16949
Gain your licence to trade internationally and expand your business
Improve processes to reduce waste and prevent defects
Remove the need for multiples certificates for vehicle manufacturing
Integrate ISO/TS 16949 with other management systems
Demonstrate compliance to win new business and investment prospects
How Can Nexus TAC Help?
Nexus TAC, ISO consultant in Malaysia, provides management system training and consultancy services. We offer specialized expertise and extensive practical experience to assist client in developing management systems from the initial concept to establishment and successful implementation of the management systems.
We use the following consultation approach to assist you in achieving certification:
Identify areas requiring improvement or development within your current Management System
Prepare a strategic action plan, in conjunction with your company personnel, to address those improvement areas and assist with the communication of these requirements to key personnel at all levels
Provide system-related trainings for your company personnel to create awareness and provide them with the necessary knowledge and skills in the implementation of systems
Provide assistance and advice on the development and implementation of systems, including preparation of documentation
Advise and assist, if required, with the preparation and submission of applications to your certification body
Assist with the development of internal auditing procedures and training
Conduct internal audit to ensure the effective implementation of the management system prior to final audit by your certification body
Conduct Management Review Meeting to review performance of management system and identify areas for improvement prior to final audit by your certification body
Click Here To Request For Quote