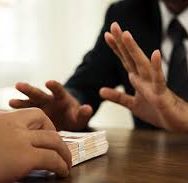 Introduction ISO 37001:2016
The ISO 37001:2016 specifies requirements and provides guidance for establishing, implementing, maintaining, reviewing and improving an anti-bribery management system. The system can be stand-alone or can be integrated into an overall management system.
ISO 37001:2016 is applicable only to bribery. It sets out requirements and provides guidance for a management system designed to help an organization to prevent, detect and respond to bribery and comply with anti-bribery laws and voluntary commitments applicable to its activities.
ISO 37001 is based on a four-step model and aligned with the ISO 19600 standard for Compliance Management Systems:
Plan: identify anti-bribery obligations and evaluate compliance risks in order to develop a strategy, including measures to address any issues
Do: implement measures and establish mechanisms to monitor their effectiveness
Check: review the anti-bribery management program on the basis of the controls implemented
Act: review and improve the program continually, ensuring cases of noncompliance are monitored and examined
WHO IS ISO 37001 FOR?
ISO 37001 can be used by any organization, large or small, whether it be in the public, private or voluntary sector, and in any country. It is a flexible tool, which can be adapted according to the size and nature of the organization and the bribery risk it faces.
The ISO 37001 management system would address:
Bribery in the public, private and not-for-profit sectors.
Bribery by the organization, or by its personnel or business associates acting on the organization's behalf or for its benefit.
Bribery of the organization, or of its personnel or business associates in relation to the organization's activities.
Direct and indirect bribery (e.g. a bribe offered or accepted through or by a third party).
Benefits of ISO 37001
Assists a company in implementing an anti-bribery management system, or in enhancing its existing controls, with the potential to reduce corporate risk and costs related to bribery.
Helps provide assurance to the management and owners of a company, and to its funders, customers and other business associates, that the company has implemented internationally recognized good practice anti-bribery controls.
Helps in the event of an investigation to provide evidence to the prosecutors or courts that the company had taken reasonable steps to prevent bribery
How Can Nexus TAC Help?
Nexus TAC provides ISO 37001 Anti Bribery Management System  training and consultancy services. We offer specialized expertise and extensive practical experience to assist client in developing management systems from the initial concept to establishment and successful implementation of the management systems.
Click Here To Request For Quote