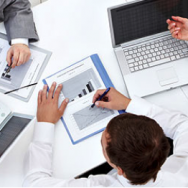 An integrated management system (IMS) would means combination ofthe organization's various components into one system for easier management and operations. Example Quality, Environmental, and Occupational Health and Safety management systems can be combined and managed as an Integrated Management System, or Quality with Food Safety Management System and so on. Integrated Management Systems is not separate systems that are just joined together, rather they are integrated where similar processes are seamlessly managed and implemented to avoid duplication.
Benefits of the Integrated Management System (IMS)
Improve organization's performance
Improve operational efficiency and effectiveness
Reduce duplication
Reduce costs
Eliminate conflicting objectives, processes, roles, responsibilities
Consistency of output
How Can Nexus TAC Help?
Nexus TAC provides integrated management system training and consultancy services. We offer specialized expertise and extensive practical experience to assist client in integrating management systems from the initial concept to establishment and successful implementation of the integrated management system.
We use the following consultation approach to assist you in achieving certification:
Identify areas requiring improvement or development within your current Management Systems
Prepare a strategic action plan, in conjunction with your company personnel, to address those improvement areas and assist with the communication of these requirements to key personnel at all levels
Provide system-related trainings for your company personnel to create awareness and provide them with the necessary knowledge and skills in the implementation of systems
Provide assistance and advice on the development and implementation of systems, including preparation of documentation
Advise and assist, if required, with the preparation and submission of applications to your certification body
Assist with the development of internal auditing procedures and training
Conduct internal audit to ensure the effective implementation of the management system prior to final audit by your certification body
Conduct Management Review Meeting to review performance of management system and identify areas for improvement prior to final audit by your certification body
Click Here To Request For Quote