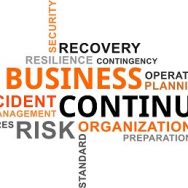 About ISO 22301 Business Continuity Management
ISO 22301 is an international network standard for Business Continuity Management. The standard provides a framework to plan, implement, operate, monitor, review, maintain and continually improve a Business Continuity Management System (BCMS).
Regardless of your organisation's size, nature of business or sector, it is vulnerable to many forms of disruptions. Natural disasters, political disturbances, terrorism and technology failure may occur at any time and lead to business disruptions.
Benefits of ISO 22301 Business Continuity Management
Identify and manage current and future threats to your business.
Minimise the impact of incidents and losses.
Minimise downtime during incidents and improve recovery time.
Keep critical functions up and running during times of crises.
Meeting legal and regulatory requirements.
How to apply ISO 22301 Business Continuity Management?
Submission of Request for Information (RFI)
Issuance of Quotation
Submission of Application
Stage 1 Audit
Stage 2 Audit
Recommendation & Approval
Issuance of Certificate
Surveillance and Recertification Audit
How Can Nexus TAC Help?
Nexus TAC provides ISO 22301 Business Continuity Management  training and consultancy services. We offer specialized expertise and extensive practical experience to assist client in developing management systems from the initial concept to establishment and successful implementation of the management systems.
Click Here To Request For Quote